Why is this important? This may be news to some people but Canada does have it's own standards and spellings. Applications like Microsoft Office are aware of this and will spell check and in some cases even auto correct your spelling incorrectly if Windows thinks you are typing in a non-Canadian English, typically U.S. English which is different. For example, once spells the word "centre" with an "re" whereas it is spelled "center" in the U.S.
If you want to look smart, use Canadian English when typing up documents, reports and even resumes and let your computer know where it is in the world by setting the time zone.
Setting up the Canadian Time Zone
Although not as often as I used to, I still occasionally receive emails from people that appear to have been sent in the future or so far in the past that it was obviously I spoke to the sender. The reason for this is usually in incorrectly set time zone.
Although the time on your computer may look correct, having an incorrect time zone setting can cause problems with applications, your network connection, your emails and much more.
Even if the time looks correct, I strongly recommend that you verify your time settings. It just takes a minute: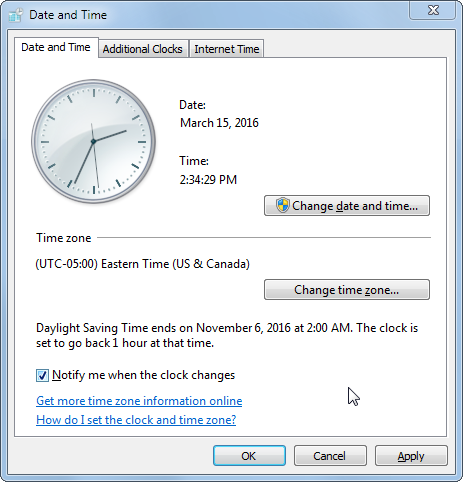 Right click on the clock located in your task bar.
Select Adjust date/time from the popup menu.
Click the Change time zone… button.
Ensure that the correct time zone is selected. For example, if you are anywhere in most of Ontario or Quebec, the correct time zone would be:
(UTC-05:00) Eastern Time (US & Canada)
Don't forget to make sure the Automatically adjust clock for Daylight Saving time box is checked.
Click OK.
If the time and/or date is incorrect, click the Change date and time… button, adjust the date and time and click OK.
Click OK one more time and you are done!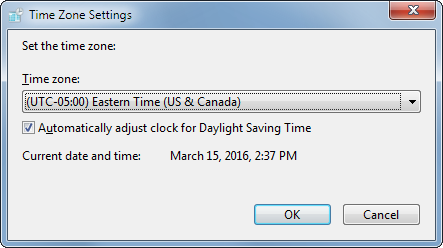 Travel Tip: Next time you travel, don't change the time on your computer. Just adjust the time zone and don't forget to change it again when you get back home. If you follow this practice, seeing the wrong time displayed on your computer will be a reminder that you need to change the time zone.
Setting up the Canadian Date and Measurement formats
The official date format for Canada is the ISO standard YYYY--MM--DD. Canadians are so smart because this date format makes it easy to sort things by date unlike other countries that have their dates start with either a month or even a day.
To change this in Windows…
Go to the Control Panel
Open Regional and Language.
Click on the Format tab.
Set the format to: English (Canada)
Click Additional Settings button
Click on the Numeric tab
Change Measurement System to U.S. -- Even though we use the metric system in Canada, our paper is usually still measured in inches.
Click on the Date tab
Change the short Date format to: yyyy-MM-dd
Click OK
Click the Location tab.
Set the Current Location to: Canada
Setting up the Canadian keyboard
Click on Keyboard and Languages tab.
Click the Change Keyboards button.
Change the default input language to: English (Canada) -- US.
Delete the English (US) keyboard.
Click the Add button
Select French (Canada)
Under Keyboard, select Canadian French
Click the OK button
Click the Language Bar tab
The only things that should be selected are:

Language Bar: Docked in the taskbar
Show text and labels on the Language bar
Click OK

Click OK